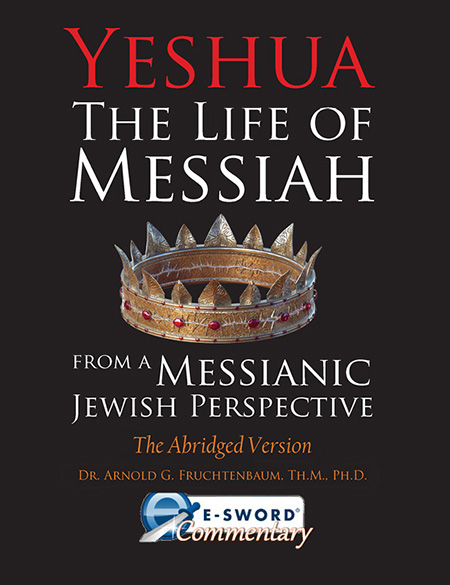 Yeshua: The Life of Messiah from a Messianic Jewish Perspective - The Abridged Version
(eSword Commentary Module for PC - not compatible with MacOS)
by Dr. Arnold Fruchtenbaum
Dr. Fruchtenbaum's forty years of experience in both Biblical and Rabbinic literature pulls back the curtains on the Jewish culture and mindset during the Second Temple period and shines a light on the life of Yeshua and his mission that will deepen your understanding of who He is and what he came to do.
This information-packed download consists of three modules in one package:
a highly contextualized commentary module of Yeshua: The Life of our Messiah harmonized across all four Gospels,


a dictionary module relating Hebrew proper names in the text to their English spelling and meaning,


a supplemental reference module providing a completely harmonized chronological outline across all four Gospels as well as additional tables, diagrams, and appendices.
Using this unique eSword Commentary format, you will not only see Dr. Fruchtenbaum's explanations of the relevant Gospels verses in view, but also the various layers of context in which the verses occur. Carefully constructed outlines also direct you to the major divisions or subdivisions within the structure of Yeshua: The Life of Messiah.
—Digital download for eSword
—Approximate download file size is 6.4MB
NOTE: please read E-Sword instructions before purchasing this product.